After a hot weekend, it's pouring here. Oddly enough I'm happy because I can finally breathe! I also don't have to drag the hose around the back yard to water what little plants I have. I don't quite understand how it works, but the weeds thrive wet or dry, and the plants I want to survive rarely do. Do you think this is a lot like life? Everything worth it takes more work? Me too, I'm glad you agree.
I had a very good weekend, although the end comes way too fast doesn't it? I started my socializing early on Friday by meeting my friend Jaime for breakfast at Chace's Pancake Corral where we ate stacks of blueberry pancakes and caught up. You see she is getting married in September and so she likes to talk about one of my favorite things in the world. Weddings. Lucky gal that one. Friday night I continued the party with my friend Danielle where we shared some chow mein and went to see the movie Disney Pixar's UP. We wanted to see a chick flick, but there were none. It turned out to be adorable and hilarious, and I definitely recommend it.
Saturday morning Danielle and I got up early and took the dogs for a hike. Issy and Charlie ran wild as usual and little Baci trotted behind exasperated by their behavior. When I got home I bathed the dogs, cleaned the house and then started to mow the lawn. Our lawn is so uneven that the bag kept falling off causing me to curse uncontrollably, and at one point hitting me hard on the ankle. I got halfway through and the lawn mower died. I was exhausted and thought Bryan would be home soon to fix it, so I threw on my bathing suit and angled the lawn chair to face the side of the lawn that was mowed.
Later, Bryan came home and fixed the lawn mower by putting gas in it. He is a genius. The neighbors had gotten new chicks so I headed over to meet them. Marmalade the cat was also introduced.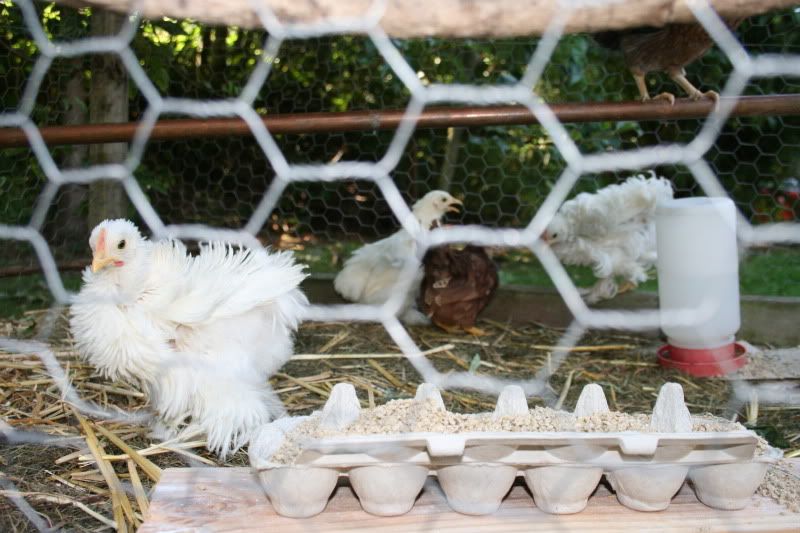 Annabelle and Marmalade
Then we went to my MIL's house for Andrew's birthday dinner of white sangria. And well after that sangria I can't quite remember what we ate. Wait wait, it's coming back now. We had yummy shiskabobs, broccoli salad and rice. For dessert? Blueberry crisp with lavender ice cream. So good I just ate and forgot to pull out my camera! We left early and I intended to hunker down and read but was asleep by 10:30pm.
Sunday we woke up and did some grocery shopping. Spent a little money at Starbucks and then I took the neighbor kids to my Mom's to see the kittens, play on the swings and pick raspberries. When we got home it started pouring buckets and so the dogs and I cuddled on the couch (even though I spent most of Saturday vacuuming said couch and vowed never to let them up again) and read.
And here we are at Monday. How lovely. I'm already thinking of Friday again.
Hope you had a great weekend. See you tomorrow?