Well I did it. I finished all 7 of the Harry Potter books. I started them Memorial Day weekend and now I am done. Sad that it is all over, but anxious to see the next few movies. Friday on my way home I realized that I had left the book at work with only a few chapters left to read. So I did what every sane 26 year old does and had my Husband drop me off at Barnes and Nobles so I could finish it.
Well I didn't finish it before he came to pick me up again, so I went online and found a PDF version. I wish I had looked online before we ventured out because I would have much rather read in the comfort of my own home. Instead I had to listen to the group of Mommies in the cafe talking about home schooling their children, multiplication tables and their sewing rooms. Plus they all looked a little homley and I left scared, swearing up and down I would never homeschool my children and would schedule a haircut immediately.
Saturday I got up early, and since Bryan was a working fool I went for a hike with my friend Angela and her Hubby Brad. We went to Talapus Lake which is a nice little hike up to one of the Alpine Lakes. It was beautiful and all in the shade so we beat the heat!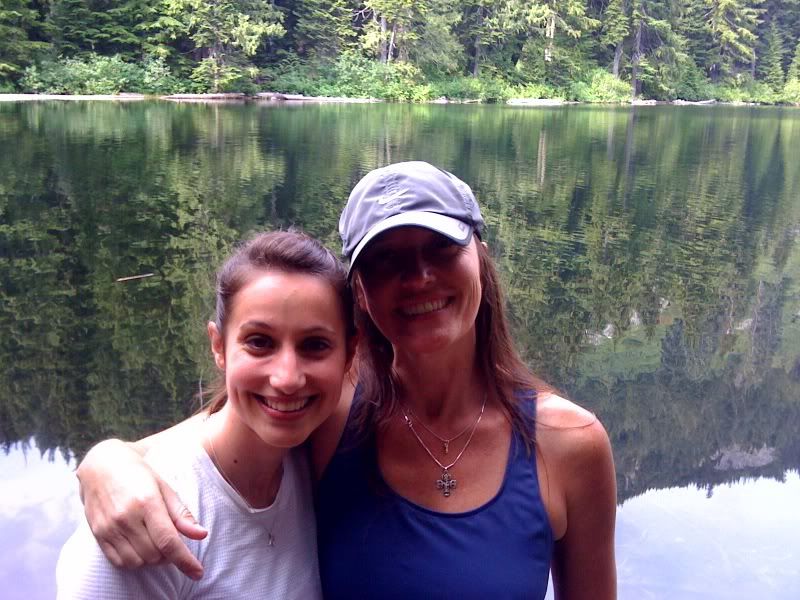 Me and Angela
Charlie and Issy checking out the scene
Angela and Brad...I don't know what Angela is doing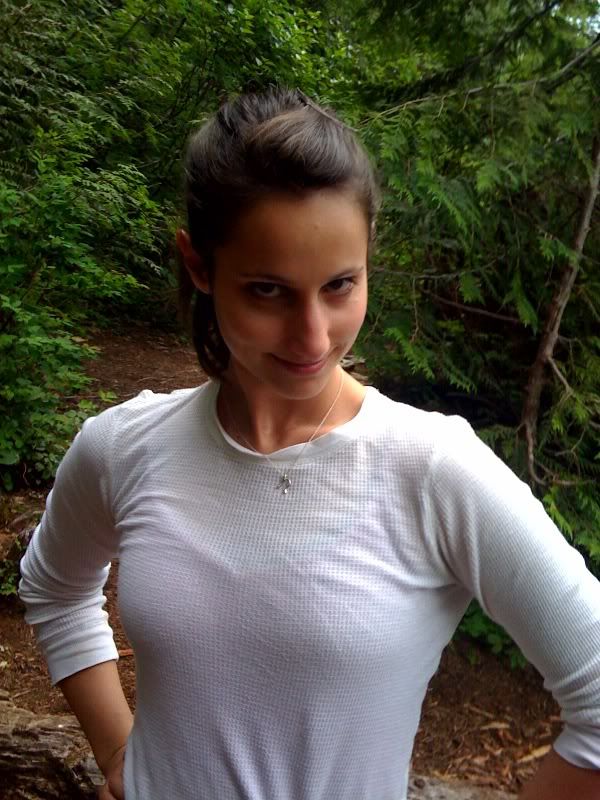 Me, in the lead role of girl scouts leader (where's the cookies?)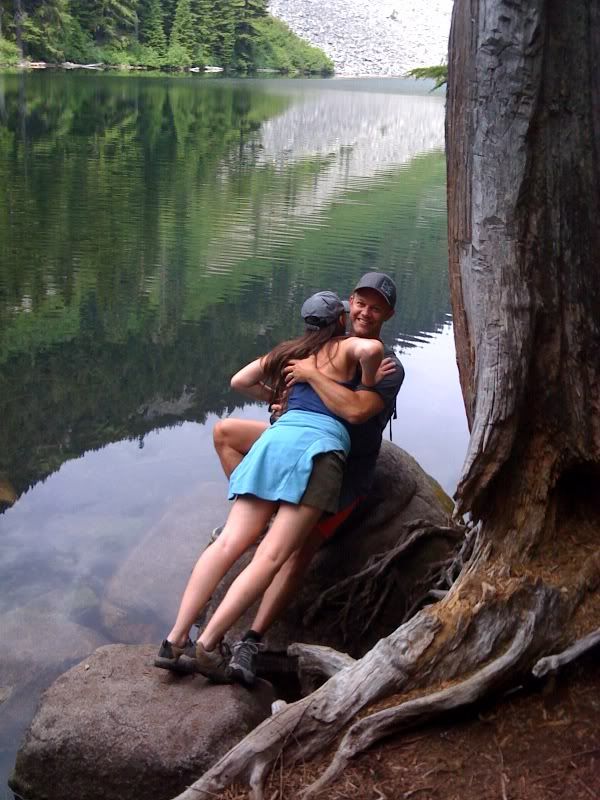 Angela and Brad. Here I know EXACTLY what they're doing.
Charlie actually swam for once. Can you see how freaked out he is?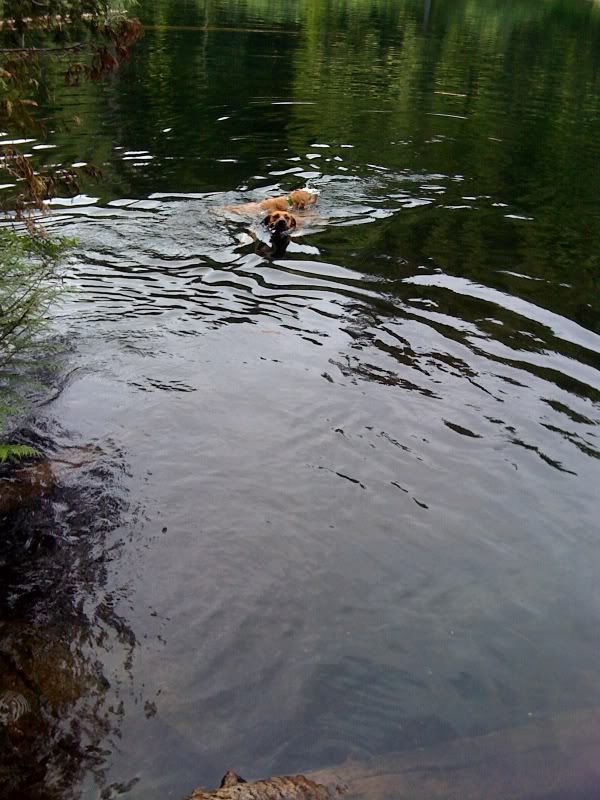 Here he is trying to hitch a ride back to shore on top of Issy
Later, Bryan and I went to look at windows for the house (I know you're jealous ;) and then to a BBQ at my friend Shannon's parents house.
Jessica, Shannon et Moi
Sunday we did the usual. Walk the dogs, grocery shop, nap. In the evening we went to a co-workers wedding at The Robinswood House. It was a great wedding, all in the shade!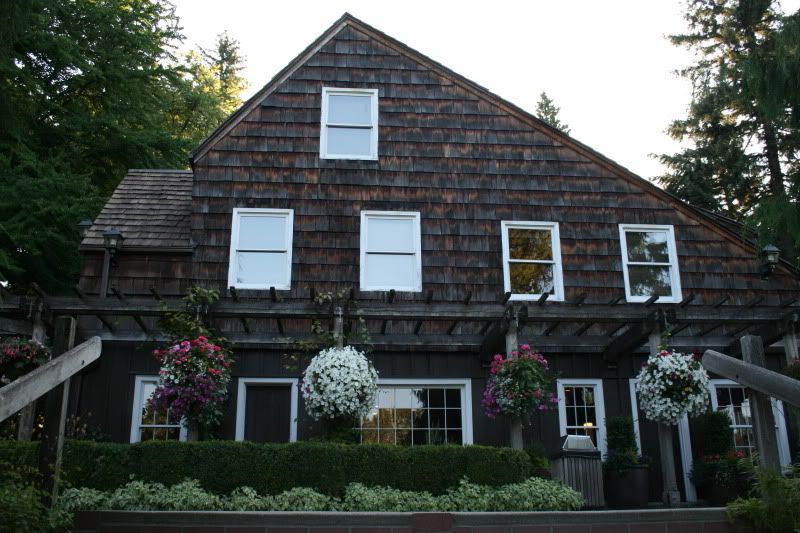 The Robinswood House
The Bride and Groom. Professor Dumbledore officiated. He looks nice all cleaned up eh?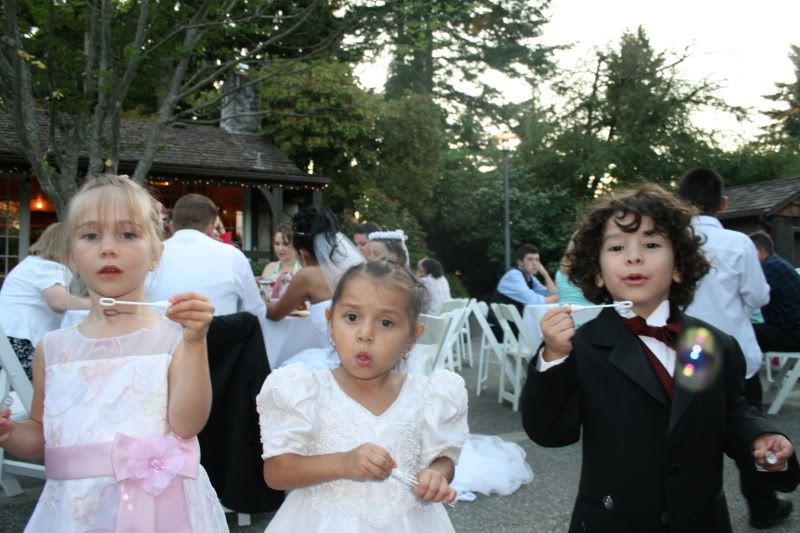 Somehow I attracted the children blowing bubbles
Adorable little ring bearer
I couldn't get enough of this little one. Too cute!
And this one, so stylish. I can't resist a little girl with a bobb.
Most of the pictures turned up blurry because those kids just move so dang fast!
And that was the weekend. Hope you had a good one!