Thank God all of our family lives so close because we made 3 stops on Christmas Day. We started out at Bryan's Aunt and Uncle's for gifts and an oatmeal bar.
The toppings were hung on the counter with care
Apple gingerbread cake
I will admit I skipped the oatmeal and went straight for the cake
Cruiser finds out there isn't a Santa Claus
I left their house with two Costco size Nutellas. It was a good Christmas ;)
Then it was off to Bryan's Dad's house...
What are you laughing at?
What's wrong with my outfit? It's Christmas colors!
Caught!
Chelsea and I are finally officially welcomed into the family
We get to puffy paint our blank stockings
My attempt at Pottery Barn puffy paint style
Chelsea wins, but she's a teacher so it's no contest
Steamers, crab and multiple veggie trays
THEN...
Off to my parent's for Christmas dinner
The only grandchild = spoiled!
Lots of wine
Grammy looks like she could use a glass
Opening his stick horse from Uncle Bryan
Everyone had to feed Bullseye carrots
Reading books with Aunt Cheri
Playing slinky with Uncle Bryan
Chillaxin with Grammy
She still needs that wine...
Familia
Jordan just returned from a study abroad in Costa Rica
(she's the little blonde babe in our Santa photos past ;)
New train #4
I guess our family doesn't communicate well
Opened gifts for future family members
And felt babies kicking inside stomachs ;)
Buche de Noel
2 pieces...to even out the thighs
Eclair swans
You fancy huh?
Then we settled down to sleep in new sleeping bags
Shhhh!
Of course there were a few more gifts to open when we got home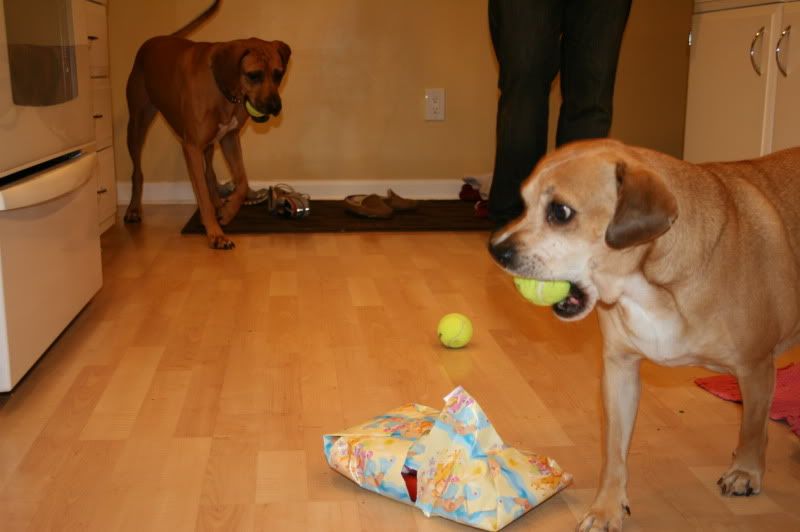 More tennis balls than any two dogs know what to do with!
Phew...I'm tired just thinking about that day!